Dominate Local Search: 6 Ways to Outsmart Your Competition
Unless you're a national or global brand your business is most likely competing against the local competition in your city, region, or state. Furthermore, the competition is probably the stiffest online in the digital marketing space. With so many different channels and opportunities to reach your target audience, it can be overwhelming to even know where to start. But the good news is that with a solid digital marketing strategy and an unwavering commitment to consistency, your business can outsmart your competition and dominate local search!
As the best digital marketing agency in Raleigh, North Carolina, we help businesses everyday just like yours compete in the online marketplace. Here are 6 best practices to get you started.
1. Understand your competition
When we ask business owners who their competitors are we often hear "everyone". While this sounds logical, it's not a realistic approach when it comes to dominating your competition. Instead, you need to identify who you typically come up against when your prospects are making a buying decision. Another way to pinpoint your competition is to do a Google search for your service or product in your city, state, or region. What business comes up first in search?
Once you have determined your competition you should research how they are using digital marketing. Again, a Google search will bring up a wealth of information about the strategies your competitors are using. It may be paid advertising, social media, blogging, video content, or local SEO like business listings and Google My Business. You shouldn't be surprised if you find your #1 competitor doing all of these things.
You may also discover gaps in the digital marketing strategies of your competitors. These findings will help you beef up your efforts and begin to dominate local search!
2. Understand your keyword strategy
If you're new to search engine optimization (SEO) and local search you may be wondering what a keyword is. Keywords are the terms people type into a search engine like Google to find what they're looking for, whether that's a product, service, or just general information about a topic. Understanding what keywords your target audience is using to find your business is a very critical step when you want to dominate local search.
Keyword research
provides valuable information in addition to the words themselves. It allows you to see the monthly search traffic volume and competitiveness of each keyword. From this data you will be able to narrow down your keywords to only those that will give you the most relevant traffic to your site, for your paid advertising efforts, or both!
Bonus Tip
There are 3 types of keywords: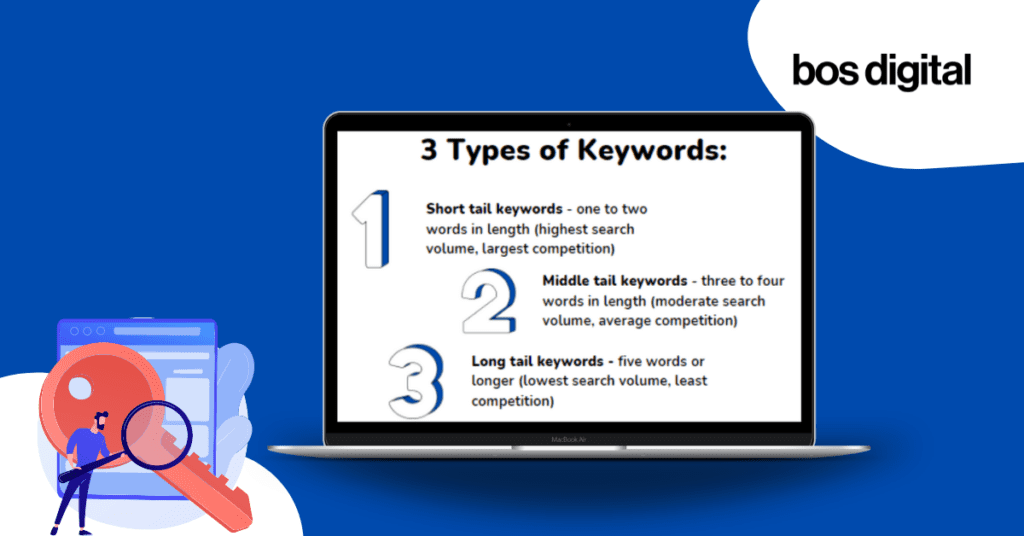 3. Align your content with your keyword strategy
Now that you have a list of keywords based on your research it's time to incorporate them into your content strategy. Creating content that is compelling for your audience to read and at the same time fulfills the needs of search engines is the goal.
It's important to select a unique keyword to be the focus of each page on your website, whether that is an evergreen page or a blog article. This keyword strategy doesn't just apply to new content. Remember to review all your existing content and adjust it for the goals of your strategy.
Keep in mind that video is also content that is widely searched so when
creating a video marketing strategy
remember to incorporate keywords. In fact, any content you create needs to be aligned with your keyword strategy, including social media and paid advertising.
4. Choose the right place to advertise
To dominate local search it's sometimes necessary to make use of paid advertising in addition to your organic efforts of social media, blogging, video content, on-page SEO, etc.
There are 4 main channels to paid advertising. They are:
Paid Search
Typically this will be Google Search Ads. With 5.6 billion searches per day on Google, you need to have a specific target market in mind for your products and/or services if you decide to place ads here. Search ads are powerful closers when they are used with the right keywords and target the right audience.
Display Ads
A display ad differs from a search ad in that it incorporates visuals, such as images or graphics, along with text and can be a powerful tool to reach your prospects while they're researching their needs. If you help them understand your value proposition, they will be more likely to consider your product or service.
Paid Social
Identifying personas is one of the most challenging aspects of building a paid social campaign. Getting it right means understanding your target audience and inspiring their desire so when they see your ad it resonates with them and they take the action you want. A focus on animated and video ad content should be part of your social media advertising campaigns.
Video Ads
As the second most visited website, YouTube has 14 billion monthly visits so consider that audience size when looking for a paid advertising channel! Video ads are probably the most creative of all types of paid advertising, allowing businesses to storytell their products and services, creating a connection with their audience that builds brand loyalty. 
5. Invest in your local presence
This may be one of the most important of all strategies to help your business dominate in local search. According to MOZ, 25% of your local search ranking is dependent on your Google My Business profile. This free service from Google, allows your business to display its business information, product and services descriptions, photos and more directly on Google Maps and Google search. Google My Business also gives you the ability to post and let your customers and prospects know more about what you have to offer, what's new, etc. Consistency is key when it comes to GMB!
Business listings, also known as citations, account for another 11% of your local search ranking. Some of the more familiar are Yelp, Nextdoor, and TripAdvisor. There are hundreds of other sites that serve as hubs for businesses. Making sure your business information is consistent across this network is critical to local search.
6. Receive consistent reviews
Those businesses who successfully ask for and receive reviews from their customers on a consistent basis are more likely to dominate local search. Reviews serve as a validation of what your audience sees on your website, social media and other digital channels. They also signal to search engines that you are a legitimate business that is paying attention to your online presence.
Your reviews need to not only be consistent but they also need to be distributed over many different platforms. Google and Facebook are probably the most familiar channels but recently the importance of industry specific review sites like
Clutch
,
Design Rush
, and
UpCity
have begun to dominate in search results.
You now know 6 ways to dominate local search. As the best digital marketing agency in Raleigh, North Carolina, our team of subject matter experts can help your business put these strategies into action. Let's talk!
BOS Digital is a Raleigh digital marketing agency. Our team of subject matter experts understand the complexities of lead generation, digital marketing, communications, and goal-driven marketing.